Mobile Butterfly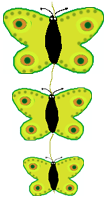 Materials
Thin Cardboard
Pencil
Tracing paper
Sketch Pen
Nylon Thread or fishing line
Mobiles are usually associated with children's rooms. Easily made with attractive colouring, this will surely delight your children and brighten up their bedroom or bathroom. This is a very cheap and easy way to make a mobile butterfly. Create a hanging mobile with different kinds and sizes of butterflies.

Fold a piece of cardboard to half
Draw half of a butterfly along the fold line and cut out

Unfold the paper

To make a butterfly, draw the head and body as shown in figure.

Paint

the body black. Decorate both sides of the wings of your butterfly using markers and glitters. With a hole punch make two holes in the head.

Take a dark coloured nylon thread or pipe cleaner. Fold it and thread it through the holes in the butterfly's head as feelers. Make another 2,3 butterflies of different sizes in this manner.
Punch holes on either end of the butterfly body. String a short length of thread or craft lace from front to back through top hole, then back through bottom hole. Tie a small jingle bell on bottom if needed. You now have a beautiful butterfly mobile.
Tips : If you want to make a more realistic looking butterfly trace it from book. Those who know drawing can make butterflies of your own choice. You could also cover the cardboard piece with coloured paper aesthetically if you prefer.

u get many more from
here
...